About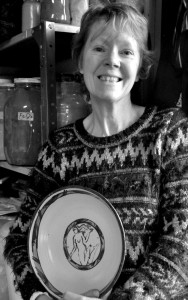 Sussex-born, Yolande studied Three-dimensional Design in Brighton.
A love for ceramics and a flair for life drawing led her to decorate pots, platters and tiles with lively and flowing figures.
After five years as an established and recognised Brighton Studio-potter, she was awarded sponsorship to travel to Japan.
Here she spent a year and a half brush-decorating tableware and preparing for a solo show in Tokyo.  A subtle Japanese influence is still visible in her work today.
Since her return to England in 1998, Yolande has featured in numerous shops and exhibitions,  and has even collaborated with The Body Shop in the realm of shop display.
Married to a furniture maker, she is now settled in a converted barn in Five Ashes, East Sussex, where she pots, sells and teaches from home.
Recent years have seen Yolande enjoying the teaching side of her profession – both as an accomplished ceramics teacher at St Leonards Mayfield school and currently in her private and popular Adult Education Classes, which take place in her studio.
Yolande Specialises in brightly coloured earthenware, durable stoneware and figurative carvedweare.
She currently exhibits her unique work in her showroom at home and at the Ashdown Gallery* Forest Row,  Charleston Farmhouse*  and annually in the Brighton Festival*.
Lately she has been focusing on larger works such as carved murals, commemorative platters and is always happy to make to order.
* click for link to gallery website